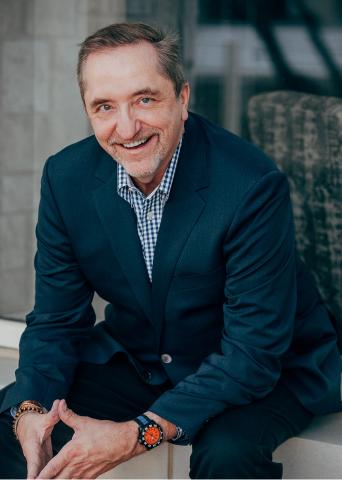 Lou Kaucic
Sanbornton, New Hampshire
"Inspiring action, deepening learning, and laughing along the way."
Lou empowers individuals from all walks of life to shatter self-limiting beliefs in order to define and achieve personal greatness. Imaginative, yet grounded, thinking has fueled his work to help organizations transform their approach to Human Resources, something he accomplished as Chief People Officer at Applebee's International, the world's largest casual dining concept.
Today, Lou leads Coaches Collective International and shares his experience and expertise through several for-profit and non-profit boards. With a passionate belief in the importance of balance in life, he serves as a trusted, results-oriented resource to C-Suite executives, mentors felons in the New Hampshire State prison system, and coaches a wonderfully diverse array of clients and individuals.
Lou is a graduate of the Coach Certification Program at Hudson Institute of Coaching in Santa Barbara, Calif., and his extensive studies have included course work at the Coaches Training Institute, the Hoffman Institute and the Gestalt Institute. He earned his bachelor's degree from John Carroll University in Cleveland, Ohio.
Lou on His Passions: 
Our two beloved Corgis, eclectic jazz and chill music, walking in New Hampshire woods and on frozen lakes, international travel on and off the beaten track, "Catan" and "Ticket to Ride India" board games, great documentaries, art museums, Miles Davis with a good cabernet, and Brene Brown.
Lou on His Coaching Style:
I strive to be supportive and challenging, deeply caring, and focused on delivering solid insights. My clients can expect action-oriented, BS-free pragmatism leavened with plenty of humor.
I am powered by clients' candor, curiosity and willingness to think big and break through limiting beliefs. I love helping them to get excited and engaged, trying on new perspectives, using great tools like Inner Saboteur, Future Self, Wheel of Life, Enneagram and Power Feedback, among others. To anyone feeling stuck or stale, I say: "Bring it on!"
Specialties:
C-Suite executives desiring personal growth and sharpened business acumen

Individuals who want to achieve greater self-awareness, make a bigger impact in their world, and increase their personal effectiveness

Bright people working to break through in their "stuck" areas (work/personal/community)

"Outsiders" looking to flourish by leveraging their authentic selves
Favorite Quote:
"Approximately right, continuously improve!" – Unknown
Core Values:
Integrity, Discipline, Humor, Generosity, Adventure, Compassion
Testimonials
Lou is a fantastic coach. He really helped me develop as well as my team.
Lou is really candid, insightful, and yet so supportive. Wow.
I feel stronger and more purposeful than ever.
A pretty fabulous experience.
I so appreciate Lou and the impact he's having in the world.
I really appreciate how Lou helps me to see my blind spots. There are a LOT of stories that I've been telling myself for a long time and he is able to point those out.
Lou is great at listening, assimilating and providing the right feedback.
Coaching has been an amazing experience for me. I recommend it highly.
Lou has impacted my life in enormous ways and I am so incredibly grateful.
What an incredible difference Lou has made in my life.